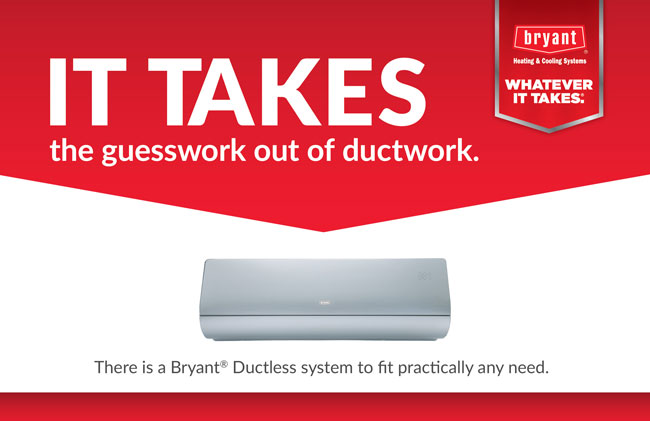 Ductless Heat Pumps are for Hot & Cold Spots, Bonus Rooms, Garages, and Sun Rooms, we recommend and install Bryant Ductless Products in Southern Kentucky. Schedule a Free Estimate now by clicking here.
Energy Efficient
Up to 42 SEER that means low utility bills.
No Duct Work to Install
Forget the added expense of having duct work run.
Multiple Zone Friendly
One Outdoor unit can connect up to nine different indoor units.
Room-By-Room Control
Each indoor unit can be controlled individually.
Small Footprints
Bryant High Wall units are low profile and unobtrusive.
Attractive Design
Designed to blend seamlessly and comfortable into any room.
Quiet Operation
With sound levels as low as 26 dB(A).
Bryant Quality
Bryant has unsurpassed reputation for quality workmanship and for doing Whatever It Takes™.
Rebates & Tax Credits
Bryant Ductless Systems qualify for both Rebates and Tax Credits, lowering the upfront cost.
Financing Available
Bryant has many financing option, Learn More by clicking here.
See some of our Bryant Ductless Installations: